A leading Thames Valley law firm has again been listed among the best legal businesses in the country in a prestigious national roll of honour.
Boyes Turner, based in Reading, was named as one of The Times Best Law Firms for 2020 for the second year running.
The specialist tech law firm's chief executive hailed the accolade as further proof of the business' continued success in building a national and international reputation for its services.
The prestigious list is compiled by market research among solicitors across England and Wales for 26 categories of legal services, with respondents blocked from naming their own firm.
For the second year running, Boyes Turner was listed among the top 200 in the country in the final results.
Andrew Chalkley, chief executive of Boyes Turner, said: "This is welcome recognition of the fantastic work our team does every day for clients in the UK and internationally.
"Our business continues to go from strength to strength and it's always good to see that we are recognised as one of the leading businesses of our type in the country. We're proud of our Reading roots but we've always sought to have a strong reputation locally, nationally and internationally and this is further proof that we continue to achieve that."
Boyes Turner announced recently that it had seen revenues rise by 12% year on year in the first half of 2019/20, as it continues to grow and build on a record-breaking 2018/19.
It follows on from the previous financial year in which the business saw profit increase by 22% to £4.2m and revenue, at £15.5m and up 8.3%, exceed the £15m mark for the first time in the firm's 130-year history.
Eight of its legal experts were recently listed in the elite 'Leading Lawyers' category of the latest Legal 500 listing, with 39 of the Boyes Turner team in total recommended by the leading legal directory.
Consistent with our policy when giving comment and advice on a non-specific basis, we cannot assume legal responsibility for the accuracy of any particular statement. In the case of specific problems we recommend that professional advice be sought.
Get in touch
If you have any questions relating to this article, please contact Andrew Chalkley on [email protected]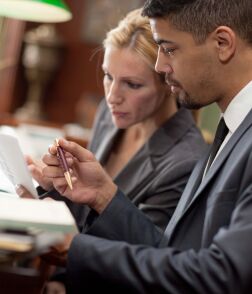 Stay ahead with the latest from Boyes Turner
Sign up to receive the latest news on areas of interest to you. We can tailor the information we send to you.
Sign up to our newsletter