Chris arrived in Reading in 1981 upon qualification joining the firm Hewett Pim and Dixon which occupied offices in Station Road next door to Harris Arcade. As a general litigator, Chris soon became involved in bankruptcy work and following his success in the case of Re Lowrie began to establish his reputation as an insolvency lawyer gaining instructions from leading local insolvency firm, Highley & Co and from Walker Kirkpatrick, as well as the larger national accountancy firms as they rushed to open offices in Reading during the nineteen eighties; from Deloitte Haskins & Sells, Ernst & Whinney, Arthur Young, Cork Gully, Peat Marwick Mclintock, Coopers and Lybrand, Touche Ross, Arthur Andersen to Binder Hamlyn; as well as regional firms such as Thornton Baker. Of course most of these names have been consigned to history but suffice to say there are very few Insolvency Practitioners in London and the South East (and not forgetting Gloucester) for whom Chris has not acted over the past 39 years.
In these early days, as well as a growing reputation in bankruptcy trust claims, Chris landed instructions in fraud and asset tracing on behalf of Trustees in Bankruptcy and some of these involved international actions, cases including that involving Chief Nzeribe and on another bankruptcy he attended a hearing in the US Federal Court in Miami. Alongside his bankruptcy work, following the introduction of administrative receiverships by the Insolvency Act 1986, Chris handled an increasing volume of corporate insolvencies.
As the eighties progressed Chris soon became a partner in the firm alongside Christopher Josephi and Chris Kennedy leading to local speculation that you needed to be called Chris to become a partner there. However it became apparent that he had outgrown the firm and so at the end of 1987 he left with his team to cross over Friar Street to join the then Boyes Turner & Burrows where he was joined in August 1988 by Bill Gornall-King who joined from Clark & Son with a growing corporate insolvency practice. As the recession of 1988 hit the business sector, Chris's reputation as the "go to" insolvency lawyer was sealed and the team handled numerous high profile corporate receiverships that included Desking Systems, Cornerstone Estate Agents (the former Abbey National estate agency chain) which was the largest ever privately appointed administrative receivership, Direct Entertainments Group and a host of local Thames Valley cases from furniture manufacturing, printing to retail and precision manufacturing.
All along Chris continued to grow his personal insolvency, asset tracing and fraud recovery practice, which has included the high profile bankruptcies of Kevin Maxwell (son of disgraced magnate Robert Maxwell); snooker player Jimmy White; Jack Dunnett (former MP and President of the Football League) and more recently the deceased property tycoon Scot Young.
As VAT Carousel fraud reared its head, Chris was the natural choice of lawyer to act in such cases for the liquidators in cases of excise duty evasion, including multi-jurisictional proceedings and recoveries, necessitating a trip to Curacao to attend Court.
One of the Insolvency reforms of the eighties was to introduce the regulation of the practice of insolvency. As a mark of professional standing a number of lawyers applied to become Licensed Insolvency Practitioners and Chris was at the forefront, becoming an LIP in 1989. He became active in SPI (the Society of Practitioners of Insolvency) now known as R3, of which he has been an active supporter regionally. Chris also served on the Insolvency Court Users Committee for 14 years, following its establishment in 2001 by Sir Andrew Morritt, the then Vice-Chancellor of the High Court.
Recognition has also come in the legal directories' write ups of him and his team over the years. Chris is the only corporate recovery lawyer in the region to have been ranked as "Best in Class" for over 20 years by both Chambers Guide to the UK Legal Profession and The Legal 500. He has been highlighted in The Legal 500 Hall of Fame as an individual who has received constant praise by his clients for continued excellence. He is also ranked in Band 1 in Chambers UK – Restructuring/Insolvency: Personal Insolvency UK wide and is the only lawyer in the Thames Valley to be recognised in the top tier.
Described as a tenacious litigator, as his opponents get no quarter, yet Chris has that rare gift of putting his clients at ease and over the years most of his regular clients in the insolvency community have become his friends and remain so to this day; one became and is his wife, Julia. Other insolvency lawyers, bankers and barristers too have become friends and hold him in high esteem. His generosity and kindness are renowned as are his loyalty to friends and his puckish wit.
He has played a very large and influential role in the development of Boyes Turner from the modest but young, dynamic and ambitious Reading law firm of 1988 into the leading regional law firm that it is today and his legacy will be the top drawer insolvency practice at the firm and its national reputation that were his creation.
Consistent with our policy when giving comment and advice on a non-specific basis, we cannot assume legal responsibility for the accuracy of any particular statement. In the case of specific problems we recommend that professional advice be sought.
Get in touch
If you have any questions relating to this article, please contact Bill Gornall-King on [email protected].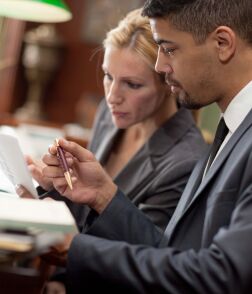 Stay ahead with the latest from Boyes Turner
Sign up to receive the latest news on areas of interest to you. We can tailor the information we send to you.
Sign up to our newsletter