Overview
When disputes arise relating to financial products, these can be complex and have very significant impacts for both parties.
We have significant sector experience, acting for both claimants and defendants in a wide spectrum of regulated services disputes. We are solution-led and employ all forms of dispute resolution, including dispute avoidance, negotiated settlement, Alternative Dispute Resolution and litigation. We combine legal expertise with intelligence, pragmatism and commercialism to resolve issues quickly and cost-effectively.
Expertise
Financial Services Disputes
Pension Disputes
Insurance Disputes
Financial services disputes
Many successful businesses employ borrowing or investment strategies to provide the funding required to establish themselves, to develop and grow and to take advantage of new opportunities.
Commercial loan agreement disputes frequently occur between borrower and lender and these can have a serious effect on company finances and potentially the ability of a company to continue to trade effectively.
Disputes also regularly arise relating to the sale or purchase of complex products such as interest rate hedging products and FX forward contracts, which carry significant levels of risk. We advise clients on the most appropriate settlement strategy to deliver a positive commercial outcome.
Pension disputes
The value and complexity of pension products and the associated legislation and regulation make it unsurprising that they generate a wide range of disputes at all levels, ranging from small individual cases to those relating to the corporate schemes of multinational companies.
Successful resolution demands specialist expertise in the complex legal and regulatory framework and practical experience of how different types of scheme work.
We advise on settlement strategy throughout a dispute, working with employers, trustees or members to reach a positive resolution.
Insurance disputes
Although the majority of insurance claims are settled without dispute, there are inevitably occasions when claims are refused or policies are avoided, sometimes with significant financial implications.
We work primarily (although not exclusively) with commercial policyholders to successfully resolve coverage disputes and specialise in high-value disputes relating to all types of risk.
Who we help
We act in all types of regulated services dispute for clients ranging from large public companies and multinational organisations through small and medium sized businesses to private individuals.
Solutions for your business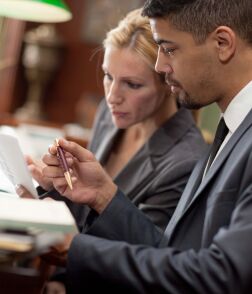 Stay ahead with the latest from Boyes Turner
Sign up to receive the latest news on areas of interest to you. We can tailor the information we send to you.
Sign up to our newsletter