Cash is the fuel that drives business success and unpaid invoices cost companies of all sizes time and money. Having an effective debt recovery process in place is crucial for all businesses to recover what's owed and avoid all unnecessary stress, effort and financial pressure.

Our Debt Recovery service offers a quick, efficient and cost-effective solution, dealing with the collection of all uncontested debts from the issue of a letter before action or demand letter through to issuing court proceedings, obtaining judgment and enforcement action, including insolvency proceedings. With a real understanding of the pressures, targets and deadlines faced by our clients' credit control teams, we act as a trusted partner and seamless extension to the internal group organisations.
Our team is led by Donna Goddard, who has over 30 years' experience working in debt recovery. Donna supervises all cases and is supported by an experienced and highly recognised team.

We are an accessible and responsive team and all of our clients also benefit from access to a secure debt recovery case management system, offering up-to-date information on their cases at any time of the day.

Expertise
There are a number of key steps within the process of debt recovery. We understand the importance of balancing the impact of bad debts against the cost of recovery, and we provide each element of our service on the straightforward fixed-fee basis outlined below, for all business-to-business undisputed debts:
Demand letter
The first step is to issue a demand letter to the debtor, at a fee of £25 + VAT. This fee includes taking instructions, reviewing documentation, carrying out searches and paying the outstanding debt to you when proceeds are received. In many cases, this is the only action required to secure payment, allowing the matter to be resolved swiftly and at a very low cost.
Statutory demand
As an alternative to a demand letter and court action, it is possible to serve a Statutory Demand – a formal demand which is personally served and demands payment within a 21 day period. If the debt is not paid, insolvency proceedings may be initiated that could result in bankruptcy or, liquidation of a company. The fee for issuing a Statutory Demand is £175 + VAT, plus a process server's fee ranging from £75 to £250 + VAT.
Court action
If payment is not received within the specified period, we will commence court proceedings against the debtor, at a cost of £125 + VAT, plus a court fee.
Our fee includes the cost of obtaining a County Court Judgment (CCJ) against the debtor if no response is received within 14 days of service of the court claim. The court fee is recoverable and varies depending on the size of the debt claimed. Details can be found here. Court action generally acts as a very strong incentive for debtors to make payment if they wish to avoid a CCJ being entered against them. The debtor will also be liable for statutory fixed costs ranging from £50 to £100 in accordance with the Civil Procedure Rules (CPR).
Corporate clients are entitled to claim late payment interest and late payment collection costs ranging from £40 to £100 in accordance with the Late Payment of Commercial Debts Regulations 2013. If the debt is disputed, we will discuss and agree a strategy with our client and provide up-front information about additional charges.
Recovery of an undisputed debt typically takes between 7 and 30 days, assuming that the debtor pays on receipt of either the demand letter or the court order. If payment is still not made, enforcement action will need to be taken to compel payment. We will advise on the most appropriate course of action and confirm details of next steps and fixed fees.
Our standard fixed costs can only be claimed from the debtor where there is a clause in the terms and conditions of your contract with the debtor which entitles you to recover third-party/legal fees.
If you don't have an agreement, you can only recover a proportion of your fees, linked to the size of the debt. We can advise you about the amount you are entitled to recover when you instruct us.
The Court fee is recoverable and claimed from the debtor regardless of the terms of your agreement.

Who we help
We work with a wide range of clients across a variety of industry sectors and offer deep sector specialism in the IT, recruitment, leisure, logistics, film industry, local authority, commercial landlords and professional services fields.
Widely regarded as one of the most effective debt recovery services in the credit industry.
We honestly can't thank you enough, the debt recovery team has been fantastic in quickly securing the debt and associated costs on our matter.
We have finally found a debt recovery team who are professional, prompt and proactive. Boyes Turner are a pleasure to work with – perfect service.
"I just wanted to thank you and your team for all your/their hard work. I'm very impressed with the work ethics, the level of customer service provided and the extensive knowledge you all show. It certainly makes me feel that each account we send across is in safe hands. The great results are evident of this. I'm very pleased to have you all on board as an extension of my team. Keep up the good work! Thank you for all your support! It is all very much appreciated!!"
I wanted to write to you personally, to thank you for the amazing job you have done so far for us with collecting our 'hard' debts. It has transformed our finances, and I just wanted you to know how much your efforts are appreciated.
Boyes Turner are very result driven. They provide us with tailored reporting in order to work with our board of directors. The team are an extension of my in-house team and not just an outsourced provider.
Solutions for your business
Have any questions?
If you have any questions about our fees or would like to use our debt recovery service then please contact us.
Get in touch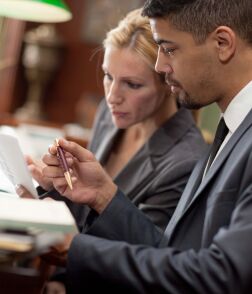 Stay ahead with the latest from Boyes Turner
Sign up to receive the latest news on areas of interest to you. We can tailor the information we send to you.
Sign up to our newsletter