Overview
For many organisations, people are their most precious asset and key to their future success. Managing, motivating and developing them is highly rewarding – but also a constant challenge.
We understand the pressures HR and management teams face and we offer a complete solution to your day-to-day or larger strategic HR issues. Our proposition goes beyond legal services, bringing together legal expertise with experienced HR consultants, accredited coaches and expert trainers. What unites us is a desire to support HR teams with whatever it is that is keeping them up at night.
No matter what your specific requirements, we will work with you to tailor a bespoke solution or package of support that's exactly right for your business and your people.
Who we help
We work with a wide range of organisations from multinationals and large, publicly listed UK companies to small and medium sized enterprises, across many different industry sectors. We also work with private individuals particularly those facing an exit from their employer and in relation to immigration services.
Boyes Turner is a key partner for us in EMEA. They function almost as an extension of in-house counsel and provide expert, practical advice on day-to-day HR and employment law issues.
One of the most commercially-minded employment firms you are likely to find! The employment team at Boyes Turner really takes the time to understand our business so when they are advising us on the best course of practice, they do so with the best interests of the business in mind.
One of the most commercially-minded employment firms
Solutions for your business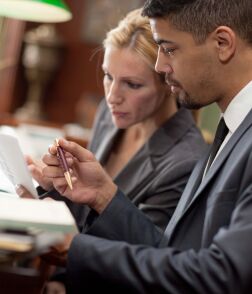 Stay ahead with the latest from Boyes Turner
Sign up to receive the latest news on areas of interest to you. We can tailor the information we send to you.
Sign up to our newsletter