Overview
We advise employers and employees on all aspects of employment law and at every stage of the employment relationship.
We can help you stay on top of your requirements and responsibilities – advising you on the constantly evolving legal landscape and ensuring you remain compliant in all your activities, acting for you when issues arise and helping to ensure your policies and procedures are up-to-date.
We also offer a range of employment contracts, employee handbooks and toolkits to assist organisations in the recruitment and employment process, whatever the budget or specific need.
Our approach
We understand that clients need employment lawyers who are proactive and go the extra mile. We have a reputation for providing our clients with a "City quality service at sensible regional rates" and are known for our hands-on, practical approach.
At the heart of our proposition is a focus on producing creative and commercial solutions to challenges, to help clients better manage risk, maximise opportunity and reduce legal expenditure. It is an approach that sets us apart from most other law firms.
Expertise
Our comprehensive range of employment law services includes:
Employment status and IR35
Legal advice in employment
Bespoke contracts, HR policies and procedures
Employment toolkits
Policy tracker service
Employment status and IR35
Employment status has become a "hot topic" over recent years with the gig economy challenging the way in which businesses are structured and how those undertaking work for them are engaged. Correctly identifying an individual's employment status at the outset is key to ensuring that employers remain compliant with employment, tax, national insurance and pension obligations.
The recent changes to the IR35 regime have also made the issue of ensuring that certain contractors' status is correctly identified and the status determination statements are prepared with reasonable care and proper processes are followed to protect the end user from liability to tax.
We have significant experience in advising on status issues, including IR35 and successfully defending employers from claims based on status.

Legal advice in employment
Equality and diversity
Disciplinary and grievance investigations
TUPE and outsourcing
Confidentiality and restrictive covenants
Termination of employment (redundancy and dismissal)
Drafting and negotiating settlement agreements
Employment tribunals and litigation
Legal mediation / workplace mediation
Gender pay reporting
Bespoke contracts, HR policies and procedures
Our contracts, policies and procedures are drafted to ensure UK legal compliance and also reflect HR best practice. They are easy to use and can be readily adapted and personalised within your organisation. We also draft bespoke contracts, service agreements, policies, procedures and handbooks to meet your individual requirements.
Employment toolkits
For an 'off the shelf' set of compliant documents, why not choose from one of our pre-packaged employment toolkits? These typically consist of a standard policy, manager's guide and template letters and forms, which you can update and amend as required. The current range of toolkits includes: Managing disputes, Poor performance, Data protection and Time off work.
Policy tracker service
We understand how hard it can be to keep policies and procedures up to date as employment law continually evolves. That's why we offer a policy tracker service through which we manage your organisation's employment policies and handbooks on your behalf. We track legislative changes, automatically amend the documents and email them back to you, ready for implementation.
Who we help
Our lawyers regularly work with domestic and multinational organisations of all types and sizes on the entire range of employment issues under UK and EU law.
Solutions for your business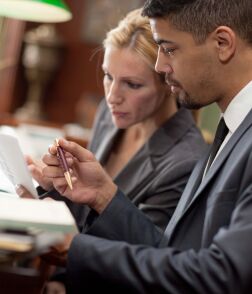 Stay ahead with the latest from Boyes Turner
Sign up to receive the latest news on areas of interest to you. We can tailor the information we send to you.
Sign up to our newsletter