Overview
For many clients, estate planning is the process for passing wealth down through the generations. Our role is to help clients to develop a coherent long-term strategy and to implement tactical solutions that underpin this strategy. We work with our clients' existing professional advisers, typically financial advisers and accountants, to ensure a seamless and coordinated approach to producing a comprehensive and efficient estate plan.
In a nutshell, estate planning is about taking the time today to plan what happens to your estate in the future, making sure you have all the right legal documents in place to carry out your wishes and manage your estate through your lifetime and in the event of ill health or death. A will and power of attorney are the foundations of estate planning. Trusts can be helpful to protect family assets or to pass assets through multiple generations. You may also wish to reduce any potential inheritance tax liability and there are numerous exemptions and reliefs providing individuals with a range of options to reduce the potential liability on their estate. Philanthropy is also a consideration for some clients and we can advise on charitable donations.
Expertise
We offer a full estate planning exercise to enable clients to plan effectively for now and for the future, using legitimate strategies to protect and pass on wealth as tax efficiently as possible.
We also help business owners to structure their affairs to provide for family succession if relevant, to ensure that steps are taken to maximise tax reliefs and to extract the value of business interests from an estate for the benefit of family and relatives. We can also provide assistance in the suitable structuring of life insurance policies, death in service benefits and pension death benefits.
Who we help
We work with a broad variety of clients in different personal and financial circumstances to produce bespoke, holistic plans relating to estates ranging from simple and straightforward to the most complex and high-value.
Frequently asked questions
What is estate planning?

Estate planning is the name given to the process of formally determining how you wish your estate to be managed through your lifetime and in the event of ill health or death and ensuring that all the right legal documents are in place to carry out your wishes. It involves a comprehensive look at your entire estate to understand the full spectrum of your assets (which may be more considerable than you realise) and structuring your estate in the most efficient way possible to minimise tax liability and mitigate against unforeseen risks.
Why is it important?

Estate planning is important for everyone – no matter what your family or financial circumstances. It protects your family's inheritance and ensures your wishes are fully understood and executed. Failing to make plans for your estate can lead to unintended consequences for your beneficiaries and also cause unwelcome family disagreements or disputes.
What is my estate?

Your estate consists of all property owned at death, before it is distributed in accordance with your will or trust deed – or the intestacy laws in the event that the relevant legal documents are not in place. An estate may contain both real property (real estate, including homes, investment properties and land) and personal property (all other property, including bank accounts, stocks and shares, vehicles, furniture, art, jewellery and all other assets and possessions). All debts and liabilities (for example an outstanding mortgage or loan or credit card balance) must be settled from your estate and all relevant taxes paid before the assets are distributed.
Who should handle my estate?

This is typically a surviving family member, close friend or other person you trust completely, who is normally named in your will as an 'executor'. If there is no will, the person who handles your estate will be appointed by the court (known as an 'administrator').
Upcoming training & events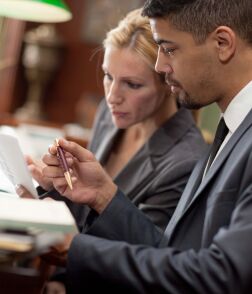 Stay ahead with the latest from Boyes Turner
Sign up to receive the latest news on areas of interest to you. We can tailor the information we send to you.
Sign up to our newsletter