Overview
We understand that construction projects are inherently complex and involve a variety of risks and a unique set of challenges and priorities. All parties involved in construction projects need an experienced legal partner with specialist sector knowledge and a clear understanding of the operating environment and the practical and commercial pressures.
We provide a one-stop shop and a seamless, coordinated service for all contentious and non-contentious matters for key players in construction projects, including contractors, owners / developers, sub-contractors, consultants and lenders. The specialist solicitors within our Construction team are supported by experts from across the firm, including our Development and house building, Industrial and logistics, Commercial property, Planning and Property disputes teams.
We work across the construction sector with businesses of all types and sizes and at all stages of projects – from inception to completion and beyond. We have particular specialism in anticipating, preventing and resolving a wide range of contract disputes within construction projects.
Our construction specialists combine legal expertise with intelligence, pragmatism and commercialism to efficiently achieve the best possible outcome for our clients. We have built a reputation for being straight-talking, accessible and responsive, building long lasting and trusted relationships.
Our approach
Where disputes arise, we aim to solve problems quickly, cost-effectively and wherever possible without resorting to formal dispute resolution processes. Where litigation is unavoidable, our lawyers are highly experienced in resolving issues through court proceedings, including Technology and Construction Court litigation and enforcing adjudication decisions in the High Court.
Expertise
The Construction team works closely with clients throughout projects, from the preparation of project documentation prior to the commencement of a project, through to drawing up sub-contracts and collateral warranties as and when these are required. We regularly advise on professional appointments, building contracts and sub-contracts, collateral warranties and bonds.
We have considerable experience in helping clients anticipate and prevent construction and engineering disputes including:
Claims for defective works
Claims arising from contract termination
Loss and expense claims
Disputes arising under standard forms such as Joint Contracts Tribunal (JCT) contracts
Professional negligence claims involving construction professionals
Final account disputes
Adjudication
Who we help
We act for a wide range of clients, from high net worth private individuals to major developers, contractors, sub-contractors and consultants in projects ranging from office redevelopments and industrial units to small new build housing developments.
Solutions for your business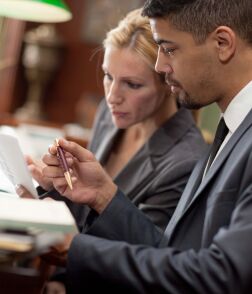 Stay ahead with the latest from Boyes Turner
Sign up to receive the latest news on areas of interest to you. We can tailor the information we send to you.
Sign up to our newsletter