Overview
We act for all parties in wills and trusts disputes and understand that they can be highly emotive and stressful for the families involved and place relationships under great strain. We navigate the complexity associated with contentious probate claims and sensitively steer disputes to a successful outcome.
At all stages of the resolution process, we advise pragmatically on the most appropriate strategy to best achieve our agreed outcome.
Expertise
Trust Disputes
Our lawyers routinely advise clients on a range of complex issues and disputes, including:
Claims to remove or replace trustees
Breach of trust actions
Beneficiaries' rights to information
Property claims
Varying the terms of a trust
Challenging a will
While the will is the last thing loved ones want to think about when someone passes away, disputes relating to the settlement of estates do occur and can be emotive and stressful for all parties. Our lawyers employ all forms of dispute resolution and always try to avoid recourse to litigation that could cause significant long-term damage to relationships.
We routinely act on challenges to wills based on:
Invalid execution
Lack of testamentary (mental) capacity to make a will
Lack of want of knowledge and approval
Undue influence
Fraudulent wills including fraudulent calumny
Forged wills
Rectification of wills
We also act on applications for the removal of executors and the appointment of alternative executors to complete the administration of an estate.
Inheritance Act Disputes
The Inheritance Act allows certain categories of people to claim against a deceased's estate on the grounds that the will (or intestacy rules if there is no will) does not make reasonable financial provision for them. This includes spouses, children (including adult children, adopted children and, in certain circumstances, children treated by the deceased as a child of a marriage), civil partners, cohabitees (if they have been residing with the deceased for a period of at least two years immediately preceding the date of their death) and those who were being maintained by the deceased immediately prior to their death. Claims must be brought within six months of the date of the grant of probate.
Our lawyers are experienced at negotiating settlements without the need for any final hearing, usually at mediation.
Who we help
We handle a wide range of contentious probate disputes on behalf of all parties, including trustees, executors and beneficiaries.
Recent work
Challenging an executor
Acting for the sister in connection with a family dispute with her two brothers regarding the administration of their late father's estate. All three siblings had been appointed executors but, for convenience, had agreed that the elder brother should take out the grant of probate in his sole name with "powers reserved to the other executors". Some ten years later, the brother had not taken any steps to finalise administration of his late father's estate. When our negotiations failed to accelerate matters, the sister instructed us to make an application to remove her brother as executor. A High Court application followed and he was eventually removed, an alternative executor appointed.
Defending an Inheritance Act claim
Acting for three adult children in connection with an Inheritance Act claim brought by their step-mother following their father's death. The father's will left the entirety of the estate to the children but with a life interest to the step-mother as regards occupation of the former matrimonial home which was solely registered to the father, the step-mother owning another property in her sole name. The children accepted the step-mother's claim but not its value. However, it was possible to settle the matter by way of mediation.
Trust dispute
Acting for our client in connection with defended High Court proceedings regarding the removal of his brother as co-executor of his late mother's estate. Subsequently acting in relation to the invalidity of an overseas trust set up by his brother on his mother's behalf.
Validity of wills
Acting for the residuary beneficiaries of their late father's estate as regards the validity of a codicil to a will purportedly signed by their father but disclosed by their step-mother in circumstances such as to arouse suspicions as to whether the codicil is a genuine document or a forgery.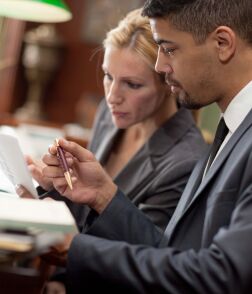 Stay ahead with the latest from Boyes Turner
Sign up to receive the latest news on areas of interest to you. We can tailor the information we send to you.
Sign up to our newsletter