As a business leader, you know that commercial deals and strategic operations are fundamental to your business. Naturally, it is critical to ensure that you operate in line with the regulations and laws at all times – but that's not all.
Getting pragmatic, commercially- driven legal advice for your business, at the right time, not only protects your assets and mitigates risk but also drives your strategic decisions and facilitates growth.
At Boyes Turner, our team of talented specialist lawyers is committed to driving business success through legal advice and support for all your commercial, strategic and operational matters.
We work closely with your teams to develop an in-depth and holistic understanding of your current operations and your strategic priorities and objectives. We deliver advice and support that goes far beyond detailing legal options by offering pragmatic solutions for your leadership teams that add real value to your business.
Who we help
Our Commercial team works with businesses spanning enterprising start-ups,non-UK companies setting up operations in the UK, and large, global and listed companies.
We have particular sector expertise assisting tech sector enterprise, IP-rich companies particularly those in the media and content sectors, international businesses setting up and operating in the UK and expanding across the EMEA region, and operations in advanced engineering and automotive sector.
They provide very pragmatic, commercially focused advice, at very reasonable prices: its City quality advice at non-City prices. They've become my go-to law firm for everything from commercial litigation to commercial conveyancing.
A very smooth running service across all disciplines with easy referrals to specialisms and a great depth of knowledge across the board.
Solutions for your business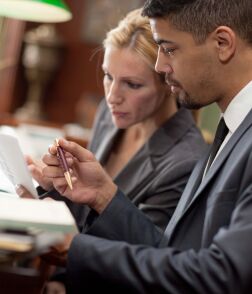 Stay ahead with the latest from Boyes Turner
Sign up to receive the latest news on areas of interest to you. We can tailor the information we send to you.
Sign up to our newsletter