Overview
Whether you are a global corporation moving staff around the world, an SME starting to look overseas to develop your recruitment strategy or an overseas business looking to move into the UK market, our full service, specialist immigration team can assist with all aspects of business immigration in the UK. Leveraging our deep experience, we work in partnership with our clients to help them develop bespoke strategies and in-house capabilities and to anticipate and plan for regulatory and legislative change.
Whether it's Brexit, lockdown or changes in government policy, we understand that British businesses have had a lot to contend with over the last few years. On top of that, the introduction of the new immigration rules on 1st January 2021 represents the biggest transformation of the UK's immigration system in almost five decades. All of this has certainly resulted in a great deal of disruption – but the new immigration rules also bring great opportunities for those businesses ready to exploit them. As well as being legal experts we are also business people who specialise in helping our clients add value to their businesses by identifying opportunities rather than just mitigating risk.
Expertise
Our comprehensive range of employment law services includes:
Sponsor Licence applications and management
Mock Home Office audits
Compliance advice and guidance
Immigration training
Visa applications for your employees and their family members
Advice on the impact of Brexit
Global mobility strategy, recruitment policy development and the new immigration system
Visiting the UK for business
Sponsor Licence applications and management
We have a wealth of experience in Sponsor Licence management, both in-house and as external consultants, and offer a full suite of licence management services including:

Acting as your Key Contact and as a level 1 user
Preparation and submission of migrant reports
Preparation and submission of Sponsor Change of Circumstance requests
Managing the Sponsor Licence renewal process
Day to day management duties such as managing your Certificate of Sponsorship allocation, adding / removing users and ensuring that the details of your licence remain up to date
Mock Home Office audits
With the frequency of visits from Home Office Compliance Officers increasing, Sponsor Licence holders are only too aware of the risk that a visit results in their licence being downgraded or revoked, resulting in potentially serious disruption to business operations and reputational damage.
To mitigate this risk, we conduct immigration compliance audits, putting ourselves in the position of Home Office Compliance Officers.
Our audits follow the same methodology used by the Home Office and we typically interview the staff who manage your immigration system, conduct personnel file reviews and carry out spot checks on your right to work check procedures and other record keeping requirements. We will then provide you with a traffic light report showing your compliance with the five key Sponsor Duties as set out by the Home Office, as well as a detailed report, including a full examination of any areas of non-compliance.
Compliance advice and guidance
Immigration compliance is simultaneously becoming more complicated, mainly due to the Brexit process, and also more of a priority for the Home Office, as more businesses seek to obtain a Sponsor Licence for the first time.
We work in partnership with our clients to help ensure they are fully compliant, using our experience and knowledge of the business to provide efficient solutions based on simplicity.
Immigration training
Maintaining good internal knowledge when it comes to business immigration and document verification checking is key to avoiding legal claims and reputational damage, so our training courses are delivered by both immigration and employment lawyers who are experienced trainers. Your business will benefit from:
Up-to-date legal know-how centred on current Home Office rules and regulations
Commercially focused, engaging, interactive and practical training relevant to your organisation and sector
Our experience of real life cases
The impact and credibility of lawyers and immigration and employment specialists (ensuring the message is taken seriously)
We run a range of training sessions on varied topics relating to business immigration – including Right to Work and Document Verification Checks and An Employer's Guide to Immigration and Visas. Please contact us for further details.
Visa applications for your employees and their family members
Whether moving existing overseas employees to the UK or recruiting directly from outside the UK, non-British / Irish citizens can face significant challenges in obtaining the appropriate visa to allow them to work in the UK. Our experienced team will ensure your current and prospective employees and their families move through the application process as quickly and smoothly as possible.
As a full-spectrum immigration firm we can assist with the preparation and submission of visa applications in all UK immigration categories, including the following sponsored routes:

Skilled worker
Intra-company transfer
Minister of religion
Sportsperson
Health & care worker
Creative worker
Charity worker
Government authorised exchange
Seasonal worker
We can also assist with the preparation and submission of visa applications you wish to help your employees with that do not require sponsorship, including:

Indefinite Leave to Remain (Permanent residency)
Spouse of a British Citizen
Hong Kong British National (Overseas)
Global Talent
Youth Mobility Scheme
UK Ancestry
Advice on the impact of Brexit
The UK's departure from the European Union has ended freedom of movement for EU nationals and their family members between the EU and the UK. Any EU nationals now wishing to move to the UK must apply for a visa under an eligible category before travelling. All EU nationals and their family members who were resident in the UK before 31st December 2020 must now apply under the EU Settlement Scheme to evidence their continued right to live and work in the UK.
We are working with a number of clients on long-term strategies to ensure that the negative aspects of Brexit are minimised and also that the positive aspects are maximised.
We are also providing a number of other services specific to Brexit, including in-house training sessions, workforce audits, employee clinics, advice and assistance with submitting applications under the EU Settlement Scheme, permanent residency and naturalisation applications for eligible EU nationals and advice and assistance with complex personal circumstances, included retained right of residence.
Global mobility strategy, recruitment policy development and the new immigration system
Whatever the stage of your development, our immigration specialists can work with your team to ensure you have robust strategies, policies and procedures in place to support global mobility of staff and recruitment from overseas.
We also work with overseas businesses looking to move into the UK market. We ensure that businesses can continue to attract the talent that they need.
Visiting the UK for business
Any overseas national who wishes to come to the UK for a short period of time on business will need to seek permission to enter under the Visitor rules. Most overseas nationals can seek this permission on arrival in the UK, however some nationalities are required to apply for a visit visa before travelling. While in the UK, business visitors can undertake only a very limited number of activities and the consequences of not abiding by the rules can be severe for both the individual and the business.
Our team, which includes a former Immigration Officer with the UK Border Force, has a market leading understanding of the visitor rules and how they are enforced by the Home Office and can support you with complex visitor applications and advice on permitted activities.
Who we help
We work in partnership with a wide range of organisations from start-up businesses to multinational PLCs across a wide range of industry sectors, to support them in the interpretation and application of immigration law.
Solutions for your business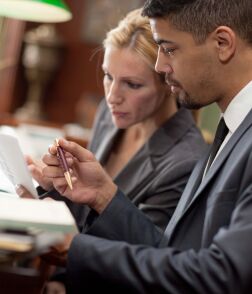 Stay ahead with the latest from Boyes Turner
Sign up to receive the latest news on areas of interest to you. We can tailor the information we send to you.
Sign up to our newsletter