Overview
Our outsourced general counsel service is designed for businesses that want regular access to legal services that are delivered in a cost-effective and efficient way.
Our approach
Our specialist lawyers act as an extension of your business and develop enhanced knowledge of your activities, goals and ambitions. We leverage an integrated approach to provide timely, proactive strategic advice that is tailored to your business.
We know that having consistent delivery of service is important. A dedicated lawyer will manage your legal issues, taking some of the pressure off you by ensuring that you have access to a wide range of experienced specialised professionals both within our firm and from our network. The service is designed to be flexible and scalable to meet your needs and budget.
Expertise
As your outsourced General Counsel, the legal services we provide can include consultation and advice on:
Strategic activities and legal matters
Cross-border transactions
Contract drafting and negotiation
General compliance and governance
Employment and immigration advice
Property matters
Setting up in the UK or overseas
Benefits
The benefits of our Outsourced General Counsel service include:
Strategic advice and guidance
Reduced headcount and costs
Price certainty and transparency
Who we help
Clients that have benefitted from our Outsourced General Counsel service range from start-ups to international companies operating across a broad range of sectors.
Solutions for your business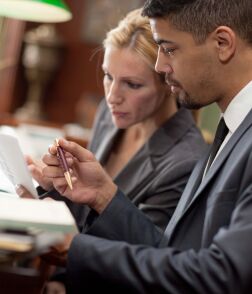 Stay ahead with the latest from Boyes Turner
Sign up to receive the latest news on areas of interest to you. We can tailor the information we send to you.
Sign up to our newsletter