Overview
Commercial agreements are the engine of your business and the shield around it. At Boyes Turner, we believe that commercial agreements are about much more than risk management. They help to drive your strategy, increase your profitability, accelerate your growth and enable you to achieve your ambitions.
Whenever you enter into a commercial agreement it is crucial that you strike the right balance between risk and reward to reach the right deal for your business. To enable you to do this you need to understand what you are signing up to and its potential impact to your business.
Our commercial lawyers have a wealth of experience supporting clients of all sizes transacting business in the UK and worldwide. With us on your team, you can confidently focus on what's important to you – maximising opportunities for your business.

Expertise
Agency, distribution & franchising
Navigating the law and avoiding potential pitfalls when establishing your sales channel arrangements both in the UK and abroad is key to maximising the benefit of these arrangements.
Our team offers strategic advice on sales channel arrangements and business expansion, including the commercial implications and legal options to consider. We also bring international experience if your counterparty is based outside the UK.
Supply chain & procurement
We understand how important supply chain relationships are to the success of a business, whether you are procuring raw materials or finished products, or engaging suppliers to provide storage and logistics services that would enable goods to reach end customers.
Our specialist lawyers can help you manage your position in the supply chain and allocate risk between you and your supply partners effectively.

Strategic partnerships & joint ventures
Sometimes a partnering approach is needed to form a close commercial alliance. This may require a formal joint venture, either contractual or a jointly owned company, or a more classic partnership.
When entering into these types of relationship you need clear and focused advice on the merits of the different types and structures of alliance, how the arrangement will operate and how it can be brought to an end.
Internationally, legal requirements vary and in some jurisdictions such alliances can only be formalised by creation of a jointly-owned company in which you are a stakeholder.
We have extensive domestic and international experience to enable our clients to participate in these alliance and collaboration structures.
International
Expanding your company internationally and offering your goods and services abroad requires careful planning. International trade can be considerably more complex than transacting domestic business and understanding mandatory rules in the jurisdictions where you operate is critical to success.
Since the UK left the EU, comprehensive commercial legal advice for European trade has become all the more important to business success. Many of the safeguards previously available to UK businesses operating in or transacting with EU jurisdictions are no longer automatically available.
We are experienced in the negotiation and formalisation of international agreements and related legal advice.
We have developed a network of lawyers in other jurisdictions who can provide trusted advice on foreign legal systems. We work with you to leverage this network and obtain prompt and cost-effective local advice for your international operations and trading arrangements.

Who we help
Our Commercial team works with businesses spanning enterprising start-ups, non-UK companies setting up operations in the UK, and large, global and listed companies.
We have particular sector expertise assisting tech sector enterprises, IP-rich companies particularly those in the media and content sectors, international businesses setting up and operating in the UK and expanding across the EMEA region, and operations in advanced engineering and automotive sector.
Solutions for your business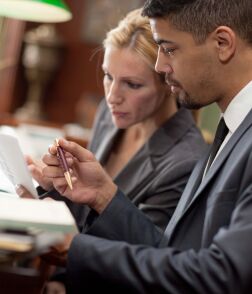 Stay ahead with the latest from Boyes Turner
Sign up to receive the latest news on areas of interest to you. We can tailor the information we send to you.
Sign up to our newsletter