Overview
Coaching is gathering pace as the go-to method for supporting employees, teams and senior management and boards as they develop. It's proven to be a highly efficient and effective way of improving performance, productivity and innovation.
Coaching also represents an important tool in the war for talent, in terms of attracting and retaining the best staff, as a coaching culture helps staff feel valued and increases loyalty and motivation and helps the collective business think strategically as well as operationally.
Our talented and experienced coaches support individuals and teams to optimise their performance, reach their full potential and be the very best that they can be.
Our coaches have different strengths and specialisms so you can be sure of exactly the right fit for every employee or team. What unites them all is a passion regarding the power of coaching to support others – and they bring this passion to every coaching assignment.
While coaching is not a regulated industry, we want you to have the confidence that you are working with the best and so all of our coaches are accredited with either the Association for Coaching, ICF or EMCC at a minimum Practitioner/Practised Coach level.
Our coaching service sits within our wider HR solution and as we offer it as part of a holistic service, you can be confident that we understand the bigger picture and recognise the role of coaching as a support to training and other initiatives.
Expertise
Our comprehensive range of one-to-one and team coaching services includes:
Executive coaching for C-suite personnel in relation to strategy development
Team coaching to ensure teams work together well and reach their full potential especially in the hybrid workplace
Parental transition coaching for new parents returning to work
Talent management – coaching for new leaders and rising stars
Employee coaching – including topics such as performance, development of specific skills (e.g. presentations or assertiveness) and organisational change
Career coaching – helping to define future goals
Career transition coaching
We can also help a company develop leadership programmes and that all important coaching culture to ensure personal and corporate development and growth in line with strategic goals.
Where relevant, we also offer psychometric testing to support the coaching process.
Who we help
We help to support the continuing professional development of employees at all levels within domestic and international organisations large and small, across a wide range of industry sectors.
Solutions for your business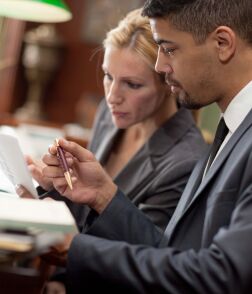 Stay ahead with the latest from Boyes Turner
Sign up to receive the latest news on areas of interest to you. We can tailor the information we send to you.
Sign up to our newsletter