Overview
HR teams are increasingly in-demand within their organisations, asked by senior management to get involved in a widening range of issues outside of their day to day roles – often when they are already busy with other projects. To cope with these pressures, flexible external HR resources can help provide additional skills and experience on demand – quickly, flexibly and cost effectively.
Over the last 20 years, working with HR practitioners we have helped businesses of all sizes to deliver core HR functions and manage strategic and tactical projects, acting as a seamless extension to the in-house team.
Launched in 2015, NetworkHero Limited, the Boyes Turner HR Consultancy business, has grown out of these relationships. We offer access to a broad range of skilled and experienced HR practitioners – so you can be confident you will always get the right person for the work or project.
All consultants are vetted by us and known to our firm and we take full responsibility for managing the quality of work undertaken. Each member of the team offers ​cutting edge knowledge and skills, with best practice and experience shared freely between consultants.
Expertise
We work with each client in the way that suits them best – consultants can be used on an ad hoc or retained basis and no job is too small or too large. We offer complete clarity and certainty from a budgetary perspective ​– what you are quoted is what you pay​.
Our consultants can provide a full range of operational HR and related advice, support and project management. We also have extensive experience providing specialist guidance on issues including:
HR audits
Investigating abuse of position
Occupational health
Relocation to the UK from overseas
Relocation within the UK
Small business growth
Who we help
We help organisations ranging from small businesses through to major multinationals across a range of industry sectors to deal with employment and related legal issues. We also help HR teams with the delivery of core HR services and the management of projects, large and small.
Solutions for your business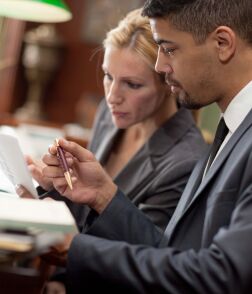 Stay ahead with the latest from Boyes Turner
Sign up to receive the latest news on areas of interest to you. We can tailor the information we send to you.
Sign up to our newsletter