Overview
Training is an excellent way to engage your people and offer them non-financial benefits through continued professional development – and of course it's also a great way to further improve individual and team performance and productivity and reduce legal risk.

Our HR Training Academy offers a range of courses to engage and develop your employees, give them the tools and confidence they need in their roles and keep you one step ahead of the pace of employment law change. If you have your own legal services providers or in-house lawyers, our HR Training Academy is designed to be complementary and act as an extension to your teams. We know it takes time to create, prepare and deliver a training session – we can take on this responsibility, freeing the organisation to focus on strategic matters.
Our approach
We have an enthusiastic, 'can do' approach and try to instil the same attitude in the people we train. We focus on positive engagement and interaction and welcome feedback, questions and discussion. We use a variety of delivery methods and interactive techniques to ensure our training is relevant and engaging including case studies, role plays, mock employment tribunals and navigation guides. You have the freedom to 'mix and match' the delivery of training from a menu of options and topics, to best suit your organisation's needs and culture.
We are highly flexible in our approach. We can deliver training in person at your premises, avoiding travelling time for attendees, or we can host in our own offices or at another location of your choice. Where face-to-face training isn't possible, we can also provide a wide range of virtual and online learning services. We offer full or half-day sessions, on a standalone or modular basis. Costs depend on course content, delivery method and numbers of delegates.
Offering
We hope that the breadth of our offering means you will find something to exactly match your organisation's training requirements. We offer:
In all cases, delegates will benefit from:
Up to date legal know-how​
Commercially focused, engaging and practical training relevant to your organisation and sector
A common sense and interactive approach to training
Our experience of real-life cases
Defences in some employment tribunal claims
Bespoke courses
While all of our training courses are designed and delivered to suit all levels of management, regardless of the level of pre-existing HR knowledge, we can also offer a more tailored approach.
We understand that your organisation may have specific requirements and that you may need a course or a topic to suit your particular business sector or a precise business or training need. We can work with you to deliver a truly bespoke course or training programme. This could be a one-off or designed to fit within a current training programme you are running or looking to introduce.
One size does not always have to fit all.
Who we help
We help to support the training requirements of a wide range of domestic and international organisations of all sizes across a variety of sectors, with diverse requirements. Our client list includes:
A leading UK-based publishing house
Pharmaceutical companies
High-end car manufacturers
Global technology software companies
Public authorities
Leading national caterers
Leisure companies
Restaurant chains
Professional services organisations
Global security solutions providers
Solutions for your business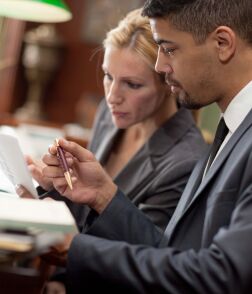 Stay ahead with the latest from Boyes Turner
Sign up to receive the latest news on areas of interest to you. We can tailor the information we send to you.
Sign up to our newsletter