Overview
As people get older and potentially more vulnerable, they often find themselves facing an increasing number of concerns about the future, such as managing their financial affairs, paying for long-term care or protecting assets for the next generations.
There are specific steps that can be taken to protect wealth and ensure that both the individuals and their families are looked after and the right legal advice and support with lifetime planning can prove invaluable.
Our lawyers specialise in advising on the legal issues that affect older and vulnerable people. We take the time to fully understand the individual circumstances, objectives and priorities and can then help with the legal and practical decisions relating to what are often complex and sensitive issues.
We offer bespoke advice, guidance and support that is tailored to help our clients achieve peace of mind in later years.
We are highly experienced and work sensitively and empathetically with elderly clients, their families, their carers and their other professional advisers.
Expertise
Our services for elderly clients include:
Our team can also advise on the legal implications of moving into long-term care and the options for funding that care, often working in conjunction with our clients' specialist financial advisers to ensure a seamless and coordinated approach.
Who we help
Our specialist lawyers work with elderly clients in a wide variety of family and financial circumstances. We find it particularly rewarding to help ensure they have the confidence and reassurance to enjoy their later years, safe in the knowledge that their affairs are in order and their loved ones provided for.
Frequently Asked Questions
I'm currently in good health – can this not wait?

We always recommend that clients act sooner rather than later to ensure their wishes for the future are clear and their affairs in order.

By not leaving matters until your health deteriorates, you can provide security for your dependants now and also benefit yourself from the peace of mind that everything is in place. It also ensures responsibility for financial matters (and health matters if you choose) rests solely with the people you love and trust.
How will the cost of care affect the value of my estate?

It is certainly the case that the cost of care in later years can be very significant. That's why planning for care home fees now can give you peace of mind for the future and ensure that your loved ones still benefit from your estate.

Generally, if you move into residential care you will be expected to pay your own fees. Your local authority will undertake a financial assessment to find out if you're entitled to state funded care – if what you own exceeds £23,500 they may make no contribution to your fees at all.

Long-term care can be extremely expensive and if you do not plan for these potential costs, your home or other assets may need to be sold to pay for your care.

A specialist can help you plan for care home fees in a number of ways by looking at your estate as a whole and advising on the best way to structure your assets so that you're prepared for future costs, without damaging the inheritance you want to pass on to your loved ones.
Court of Protection for the elderly & vulnerable
Our specialised and highly experienced team are here to help those that have lost capacity to make decisions but do not have a Power of Attorney in place.
We can provide succinct advice to those that need to appoint someone to manage their finances or in relation to health and welfare issues. Those appointed to manage the affairs of others, be it a friend, family member or solicitor, are known as a Deputy.
We help streamline and navigate this process for you and are there to offer continuing support, advice and assistance. Most of these cases can be dealt with through the paperwork so there is no need to attend Court.
We cover:
applications to appoint a deputy for finances;
applications to appoint a deputy for health and welfare;
applications to obtain permission for attorneys and deputies to make gifts;
trustee applications to ensure a sale can progress where one property owner has lost capacity to arrange a sale and an additional trustee needs to be appointed on their behalf;
statutory will applications;
applications for NHS continuing healthcare;
applications for statutory funding and guidance through the social services financial assessment rules.
When acting as a professional deputy or attorney for a client, we only use Court guideline rates. Our files are submitted annually to the Senior Court Costs Office for review and a detailed assessment of costs. This means an independent third party checks over the work undertaken to ensure our fees are reasonable and proportionate and provide peace of mind.
We offer a complete service for elderly and vulnerable clients who need advice in organising their affairs.
Ruth Meyer, Partner, heads up the Court of Protection team with the assistance of Alexander Wright, Partner. Ruth has over thirty years experience, is a member of the Society of Estate & Trust Practitioners (STEP), Solicitors for the Elderly (SSE) and the Professional Deputies Forum (PDF).
Alexander has many years of experience having obtained a distinction in his STEP vulnerable persons paper and is a founding member and director of the PDF.
Together and with the team, we offer an individual and caring service where the client is at the heart of everything we do.
Upcoming training & events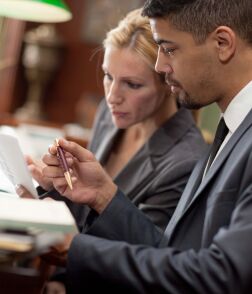 Stay ahead with the latest from Boyes Turner
Sign up to receive the latest news on areas of interest to you. We can tailor the information we send to you.
Sign up to our newsletter