Overview
Intellectual property is one of the most important and valuable commercial assets and for many businesses is key to successful growth and profitability.
Intellectual property law is a vital tool in the creation and protection of intangible business assets including ideas, innovations, technology, products, services, creative works and brands and brand elements. The law can also protect confidential information, which can be equally valuable, if not more so, for many organisations.
Boyes Turner's Intellectual Property team specialises in the protection and commercialisation of intellectual property. We combine our legal knowledge with commercial experience and pragmatism to find creative solutions that really work for our clients.
Our team is top ranked by respected independent commentators Legal 500 and Chambers and Partners and has also been rated as one of the UK's top 30 Intellectual Property practices by World Trade Mark Review. Our practice encompasses both contentious matters, supporting you in the event of rights infringement, and non-contentious work, helping you to secure registrations of your rights and optimise their protection and monetisation in your commercial engagements.

Expertise
Our Intellectual Property team is highly experienced and equipped to advise and represent you on obtaining, protecting, exploiting and enforcing intellectual property rights. Our experience spans:
Trade marks
Design rights
Image rights
Copy Right
Patents
Know-how
Who we help
Our service covers the UK and includes international advice. Intellectual property laws vary across jurisdictions, so we work closely with our network of international professionals to protect your intellectual property wherever you may require.
The various departments seem to integrate well, and any inquiry or difficulty not the speciality of our contact is easily and readily passed to another exceptional department at Boyes.
Solutions for your business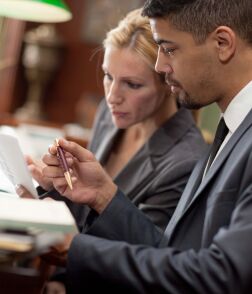 Stay ahead with the latest from Boyes Turner
Sign up to receive the latest news on areas of interest to you. We can tailor the information we send to you.
Sign up to our newsletter