Overview
Your management team are at the front line of your organisation and it's crucial that they have a good working knowledge of what's required of them from an employment law perspective. It's also key that they have the tools they need to manage their teams effectively and are confident to recognise and manage key employee issues and difficult situations.
Management training can also lead to defences in some employment tribunal cases.
Our courses are a flexible and effective way of supporting your managers as they do the job you need them to. All courses can be run virtually, in person or as e-learning modules and on a scale to suit your organisation – from small groups to larger 'town hall' sessions.
Offering
Our core curriculum of courses includes:
Bribery and expenses – how to implement an effective policy
Business immigration – including issues when recruiting in a global marketplace
Business reorganisations – TUPE, redundancies and reorganisations
Conflict conundrums – disciplinary and grievance procedures
Data protection – including GDPR compliance training
Employment law for managers – a course aimed at those stepping up to management for the first time
Equality and diversity - being an inclusive manager
Family friendly to flexible working – what managers need to know
Managing absence
Managing poor performance
Modern slavery awareness
Staff representative training – a specific course available in collective redundancies or TUPE transfers
Staying out of the court room – managing the employment tribunal process
"Think before you tweet" – the employment law implications of social media
Using contracts of employment as a business tool – confidentiality, restrictive covenants and intellectual property rights
Who we help
We help to support the continuing professional development of management teams within a wide range of domestic and international organisations of all sizes, across a variety of industry sectors.
Solutions for your business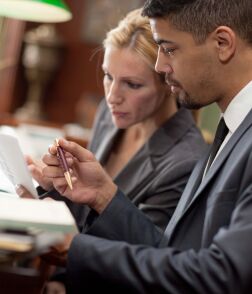 Stay ahead with the latest from Boyes Turner
Sign up to receive the latest news on areas of interest to you. We can tailor the information we send to you.
Sign up to our newsletter