Overview
Even the most skilled and committed professionals can occasionally make mistakes or give incorrect advice, which can have serious financial consequences. A successful claim for recovery of losses suffered depends on the claimant proving a failure of the defendant to maintain the standard expected by like professionals
We begin with an in-depth understanding of the specific circumstances leading to the claim, the details of the claim itself and the full impact on the claimant, personally and commercially. We establish whether the claim is about to become time-barred and we advise on the case merits and prospect of success before issuing proceedings. We determine the most appropriate strategy (avoiding costly litigation wherever possible) and guide our clients throughout the process.
Expertise
We are able to support clients in negligence cases against a variety of professionals, including:
Lawyers
Accountants
Architects
Surveyors
Financial advisers
Insolvency practitioners
Insurance brokers
Who we help
We work with individuals and businesses of all sizes and across a wide variety of industry sectors to achieve successful outcomes in professional negligence claims.
Solutions for your business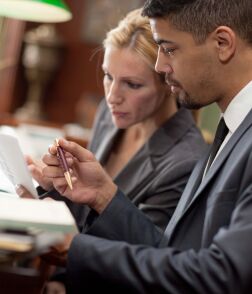 Stay ahead with the latest from Boyes Turner
Sign up to receive the latest news on areas of interest to you. We can tailor the information we send to you.
Sign up to our newsletter