Overview
We understand that construction projects can be inherently complex and involve a variety of risks. A wide spectrum of problems and disputes can occur, even in extremely well-managed projects.
When issues arise, clients need a legal partner with specialist sector knowledge and a clear understanding of the operating environment and the practical and commercial pressures.
We work across the construction sector with businesses of all types and sizes to anticipate, prevent and resolve a wide range of contract disputes
We act for both claimants and defendants. We combine legal expertise with commercialism to resolve issues quickly and cost-effectively, often without recourse to costly and time-consuming litigation. Where litigation is unavoidable, our lawyers are highly experienced in resolving issues through court proceedings, including Technology and Construction Court litigation and enforcing adjudication decisions in the High Court.
Expertise
We have wide-ranging experience in the successful resolution of construction sector disputes, including:
Claims for defective works
Claims arising from contract termination
Loss and expense claims
Loss and expense claims
Disputes arising under standard forms such as Joint Contracts Tribunal (JCT) contracts
Professional negligence claims involving construction professionals
Final account disputes
A fast track Alternative Dispute Resolution process, designed to obtain a legally binding third party decision on issues within approximately 28 days
We also offer a regular seminar programme, to provide clients with useful information on a range of construction topics and issues.
Who we help
We act for a wide range of clients, from high net worth private individuals to developers, contractors, sub-contractors and consultants in projects ranging from office redevelopments and industrial units to small new build housing developments.
Solutions for your business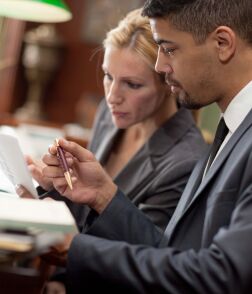 Stay ahead with the latest from Boyes Turner
Sign up to receive the latest news on areas of interest to you. We can tailor the information we send to you.
Sign up to our newsletter