Overview
Demand for new build homes in the UK is at an all-time high and property developments of all types and sizes continue to appear at pace.
Chain-free purchase, developer incentives, brand new stylish interiors and the benefit of a 10-year guarantee are enticing prospects, however the conveyancing procedure for new homes is a little more complicated than the standard process so it's crucial to find a lawyer with the right experience.
Our dedicated residential conveyancing team includes new home specialists who have a wealth of experience of the extra intricacies involved with buying a new build home.
As with all our conveyancing work, each client is assigned a named lawyer to manage their transaction right through to completion. And in order to avoid delays every member of our skilled team including support staff, are legally trained and able to provide regular updates. We also make a promise to return all calls on the same day.
Expertise
Our new build experts have a depth of experience of the following:
Purchase of freehold and leasehold properties
Stamp Duty Land Tax (SDLT) advice
New build guarantee advice
New build mortgages
Help to Buy
Shared Ownership
Discounted Market Scheme Units
Buying "off plan"
Changing build schedules
Planning permissions
Building regulation consents
Agreements for the adoption of roads and sewers
Access rights and snagging retentions
Our approach
We believe that all clients deserve the best service from the most experienced lawyers. As soon as you appoint us, you will be assigned a named lawyer to manage your transaction throughout the entire process to successful completion. This lawyer will be available to answer your questions at any time and will ensure that you are kept fully updated and that any issues are anticipated and dealt with before they create a delay.
Unlike many other conveyancing services, phone calls are always returned on the same day and our clients never, ever receive 'holding' emails or letters.
We understand the reassurance and confidence that comes from feeling fully updated and in control throughout the process – it's one of the main reasons why our clients use and recommend us time and time again.
Who we help
Our highly skilled team specialise in residential property transactions of all sizes and levels of complexity. From new build starter homes and buy-to-let apartments, through to luxury central London properties or country estates and everything in between. We have a particular specialism in complex high-value transactions for domestic and international clients, but our bespoke service reflects that every client has different deadlines and aims.
I would like to say a massive thank you to you and your team. You have been extremely helpful and professional. I am sure, getting everything ready in such a short period of time was not as easy. Best solicitors I have dealt with.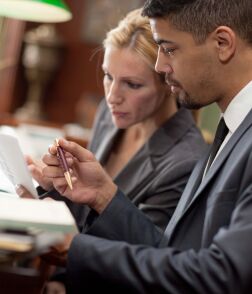 Stay ahead with the latest from Boyes Turner
Sign up to receive the latest news on areas of interest to you. We can tailor the information we send to you.
Sign up to our newsletter