Overview
Access to finance for commercial property acquisition, to fund property development or to refinance an existing agreement is often essential. There are a number of options available and the ability to secure finance is dependent on a wide variety of factors, with every transaction different.
Our Property finance service acts for both lenders and borrowers to navigate the credit market and secure the most appropriate and advantageous solution for our client in every scenario. We have a particularly large roster of banking clients and have acted for most of the major national lenders in property transactions during the last twelve months. We advise many boutique property funders and private equity investors on property finance arrangements for primary and secondary funding. We also work for pensions companies and SSAS and SIPP advisers in relation to the provision of funding.
We also advise borrowers in respect of their secured funding or re-financing arrangements involving property assets or development funding and help borrowers satisfy the funder's pre and post-completion requirements.
Expertise
Our specialist property finance services include:
Assisting borrowers to satisfy funding requirements
Preparation and agreement of facility documentation
Dealing with the preparation and registration of legal charges
Providing letters of opinion and arranging foreign legal opinions
Collateral warranties incorporating "step in" rights
Parent company guarantees and performance bonds
Negative pledges, cross company guarantees and cost overrun guarantees
Acting for receivers selling properties on behalf of banks and other lenders
Dealing with the assignment of the benefit of building contracts, warranties and the copyright in architects' drawings
Who we help
We work with a wide range of lenders such as borrowers banks, other financial institutions and high net worth individuals on a variety of property financing matters, for projects large and small.
We also advise a wide range of borrowers including trading businesses, developers, investors and individuals.
Many thanks for your help with this matter – if only all of my dealings with solicitors could be as pain free as this!
Recent work
Relevant recent cases and transactions include:

A £10 million refinancing of transactions in relation to partially completed and completed developments of residential and business units, including the organisation of a foreign legal opinion, legal charges, assignment of the benefit of the building contract, collateral and professional warranties
Acting for a national lender charging properties owned by a private developer for a total facility of £13.5 million with warranties from the construction and professional team, as well as satisfying the lender as to the position concerning complex rights of way affecting the site
Acting for a national lender taking a charge over an industrial complex with a GDV of £8 million
Acting for a national lender taking a charge over part of a large development that was to be developed as affordable housing with completion being delayed until "golden brick" for VAT purposes, with extra security simultaneously being taken by the bank over another site owned the registered providers
Solutions for your business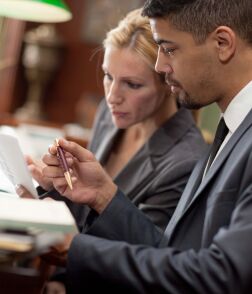 Stay ahead with the latest from Boyes Turner
Sign up to receive the latest news on areas of interest to you. We can tailor the information we send to you.
Sign up to our newsletter